As you may have noticed I redesigned the forum!
The forum now matches the Santamakers Guild
website
.
As polite as many of you were commenting on how nice the other design looked, you have to admit it was too cutsie Christmas and pretty much just downright awful!
It may have been fine for a Christmas site but not for a professional Santamakers site.
My next goal is to try to make the Gallery match the site & forum.
We now have a new header for both the site & the forum containing photos of members work. Please don't be upset if a photo of your work is not in the header. I used photos available to me at this time. I do plan on making different headers that will be rotated every so often so I definitely could use more photos! If I can use photos from your website, blog or gallery please contact me & provide the link to your photos. You can also email me photos or place photos in the Gallery.
Below are the new features that have been added to the forum. (Mostly involving Profiles)
************************************************************************
Profiles:


If you go to your
Profile
you will see more available options to add contact information. By clicking the links at the top of the profile page you will also see other options (preferences, avatar, signature, topics being watched, etc.) that you can edit to your liking.
Profiles have now been upgraded to contain a lot more information including your phone number
(if you wish to list it)
in order to make it easier for customers to find you. Please remember
only registered members
will be able to view your phone number or contact you by email or PM.
Guests however, may click on the link to your website, blog or other links you provide in your profile.
If you have already added a blog link you may need to edit since the upgrade. Check your profile!
************************************************************************
Log in reminder window:


Another upgrade is a pop up window when you first visit the forum to remind you that you are not logged in. You will only see the pop up if you are a guest or not logged in to the forum. You may choose "Don't show this again" if you find the pop up annoying.
************************************************************************
Advertisements
(Not by choice)
:
My skills at hosting a forum on my server are not the best. (It's hard enough to keep the security of the Photo Gallery up to date). Forums require extra security to keep bad people from being able to hack attack your server. Since I did not feel my skills were good enough
(plus there is an enormous amount of time involved keeping security updated)
this forum is hosted on an outside source. Our forum is hosted by Forumotion which is a free forum, but there is a drawback which is not uncommon when hosting with a free forum.
After Santamakers gains an X amount of members, advertisements will start appearing at the top of the forum
.
We can keep advertisements off the forum by buying points from Forumotion. It costs 1000 points to keep ads off for members and 2000 points to remove ads for members & guests for one year. 2000 points costs $23.76
Right now we do not have enough members so advertisements have not hit us yet.(I'm sure they eventually will) Member who wish to help keep ads off the forum can buy points for the forum by using the contribute link at the bottom of the forum or
clicking here
.
I also have a donate page set up on the Santamakers Guild site for overall maintenance of the site & forum. If any money is left over from there I will use it to buy points myself if we are running short on points. It is roughly costing me about $100 a year for server space, etc. which I have personally donated to set this whole project up but I'm hoping to eventually recover some of it.
I plan on setting up a donations page on the site so everyone can see the donations that have come in. If you want your name to be listed as a contributer you will need to contact me! I am pretty sure I will be able to tell who donated points directly from this forum, but if you donated using the PayPal link on the Guild site I have no way of matching your email address from your PayPal donation to your member name or real name!! Once I set up the page of Contributers if you do not see your name listed you will need to contact me as I will not list names until I gain permission from the the person donating. Any donations received will be listed as by an anonymous contributer until I gain permission to add your name! Members will either be listed as donating money or points. Moderators or helpers will also be listed as donating time. If you have any questions contact me.
So to make it simple, those wishing to donate...
For the overall maintenance of the Guild Site & Gallery:
Donate using this link
(don't forget to let me know who you are)
To keep advertisements off this forum:
Buy points using this link
. Points will be stockpiled until they are needed or until enough points are gained to remove the ads.
************************************************************************
I hope everyone enjoys the new design!
Admin




Number of posts

: 152


Age

: 63


Location

: West Virginia


Registration date :

2008-11-01



All I can say is wow,Patty, you have such a knack for improving an already great forum. It's wonderful! And more professional looking. How soon will this make it to Google?
Admin




Number of posts

: 267


Age

: 64


Location

: Belton Texas


Registration date :

2009-01-18



Thanks.
I feel the design now looks good enough to start submitting to all the search engines. I know we are already on Google even though I haven't submitted. Once I submit we should start to climb in the ratings.
Now that the Gallery is starting to get photos & we have items in the Guild Shop, I feel SMG looks good enough to present ourselves to the general public.
I would like to see more items for sale in the Guild Shop & new photos in the Gallery!
Oh! I also made a banner that members can place on their websites, etc. That should help.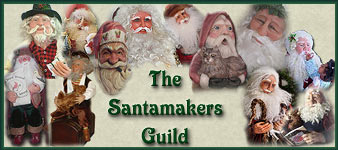 Here is the html code for the banner:
Code:

<a target="_blank" href="http://santamakersguild.com"><img border="0" src="http://www.santamakersguild.com/Santamakers_Forum/smg_banner.jpg" width="338" height="150"></a>
-
Admin




Number of posts

: 152


Age

: 63


Location

: West Virginia


Registration date :

2008-11-01




---
Permissions in this forum:
You
cannot
reply to topics in this forum